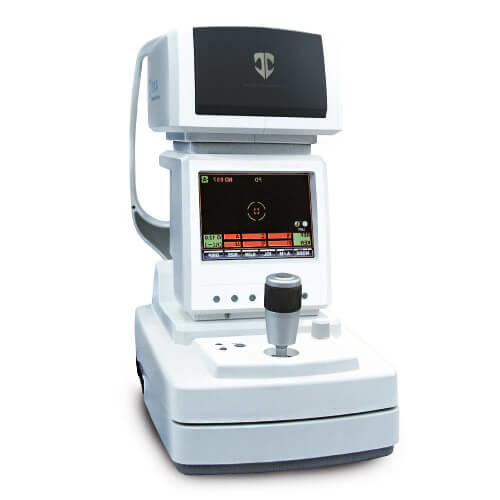 Auto Ref-Keratometer
Product Code : Axis TSRK-1000
Product Description
Auto Ref-Keratometer
Scienceter's Axis TSRK-1000 Autoref Keratometer utilizes world acclamailed DSP engine (digital Sine Progression) technology for measuring, signal capturing, aiming and Data processing. Thereby ensuing most accurate measurements, imaging & results.
The compact and fully loaded AXIS offers all technological utilities for today and tomorrow which makes it an ideal O.P.D. Companion. Its robust design & cutting edge technology, ensures years and years of trouble free performance.
Salient Feature of the AXIS (TSRK-1000)
Automatic Fogging: The AXIS incorporates Automatic fogging control by providing an infinity scene to control accommodation. A very handy tool required for accurate and typical measurements.
High Resolution Colour LCD Monitor: 3,26,000 pixel, 6.4 Inches Bright TFT color LCD provides super fine and large iris image with color alignment marks and user friendly interface.
Alignment Marks: AXIS automatically indicates to the user when ideal focus is achieved for enhanced accuracy and easy, fast measurements.
User Friendly: Convenient & simple, user interface make AXIS ideally suited for multiple user environments too. Its easy and simple self explanatory display eliminates the need for use of manual.
Pupil & CLBC Measurements:

Pupillary Diameter: Special measurement made with image capture for accurate and reliable pupillary diameter measurement ideal for ICL and LASIK workup.

AXIS Automatically calculates the inter-pupilary distance for both near and far vision.

CLBC (Contact Lens Base Curve Measurement)

Corneal & Iris size measurement can be done on the Aixs.

Auto Measurement Mode: Ensures Easy, accurate quick measurement mode for uncooperative patients.
Eye Diagram: AXIS provides the user with the option to print the Diagram of both myopic and hypermetropic eyes on the print out itself.
Motorised Chin Rest: The AXIS incorporates motorized Chin-Rest Up-Down function with conveniently located controls on the front panel for use comfort and saves time
Retro Illumination & Anterior Segment Photography-Imaging: This is very special feature which allows the user to take photographs of eyes with cataract. This helps in counseling the patient for further procedures.
Measurement Modes

Ref/Ker Mode

Continuous Ref & Ker

Ref Mode

Only Refractrometry

Ker Mode

Only Keratometry

CLBC Mode

Contact Lens Base Curve Meas.

Refractometer Mode

Sphere

+25.00 (0.12/0.2D Step)

Cylinder

0~+10D (0.12/0.25D Step)

Axis

1~180o(1o) Step

Vertex Distance

0, 12, 13.5, 15mm

Keratometer Mode

Corneal curvature

R5.0mm~R10mm (0.10mm Step)

Corneal refraction

67.5D~33.7D

Corneal astigmatism

0~+/-10D

Corneal Diameter

1~180o (1oStep)

Axis angle

2.0 - 12.00mm

Other measurement Mode

Minimum Pupil Size

2.0 mm

Pupil distance

0~85mm (1mm Step)

Pupil diameter measurement

0~12mm

CLBC/Keratometer

R5.0mm~R10mm

IOL Mode

Yes

Ret-Illum Mode

Yes

Other

Memory Data

10 Measurement for each Eye

Measuring Modes

Auto/Manual/Continuous

Power Save (Selectable)

1, 2, 3, 4, 5, 6, 7, 8, 9, 10 in minutes

Display

6.4" 3,00,000 Pixel TFT Clr. LCD display

Printer

Thermal Line, Paper width 57mm

Output

RS232C

Power Supply

AC110~240V 50/60Hz 100HA

Consumption

80VA

Body Movements

Back/front + 20mm, Right/Left + 45, UP/Down + 17mm

Vertical Range of Chin Rest

+35mm

Dimension

242W x 467D x 465H

Weight

16.5Kg.