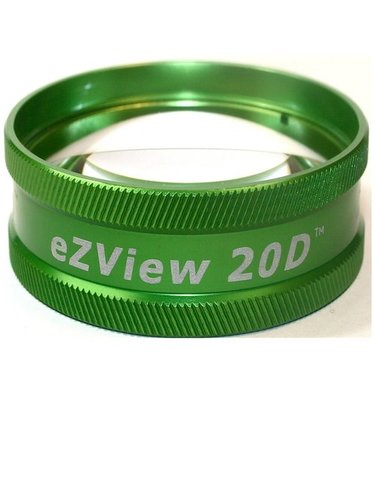 EZ View 20D BIO Lenses
Product Code : eZView 20D
Price And Quantity
Minimum Order Quantity

:

As Per Requirement
Product Description
20D BIO Lenses
eZView | Bio Lenses
eZView
All ion vision lenses are composed entirely of precision instrument-grade glass for superior diagnostic and treatment performance.
Our optimized design and exclusive enhanced broadband coating ensure maximum image integrity.
Just one look and you'll recognize the quality advantage that our ezView BIO lenses deliver.
eZView 20D : There's a 20D in every physician's pocket. Our improved design delivers superior image clarity throughout the viewing field. Computer optimized lens surface eliminate optical aberrations. A true "20 diopter" design. Available in colors : black, blue, purple, red and green.
| | | | | | | | | | |
| --- | --- | --- | --- | --- | --- | --- | --- | --- | --- |
| | 15D | 20D | 20DSS | 22D | 25D | 28D | 28DSS | 30D | 40D |
| Part Number | P-IOV-006 | P-IOV-002 | P-IOV-002-SS | P-IOV-014 | P-IOV-007 | P-IOV-008 | P-IOV-008-SS | P-IOV-009 | P-IOV-010 |
| Viewing Range | 36°- 47° | 46°- 60° | 46°- 60° | 56°- 73° | 52°- 68° | 53°- 69° | 53°- 69° | 58°- 75° | 69°- 90° |
| Image Mag. | 4.11x | 3.08x | 3.08x | 2.68x | 2.54x | 2.27x | 2.27x | 2.15x | 1.67x |
| Laser Spot Mag. | .24x | .32x | .32x | .37x | .44x | .44x | .44x | .47x | .6x |