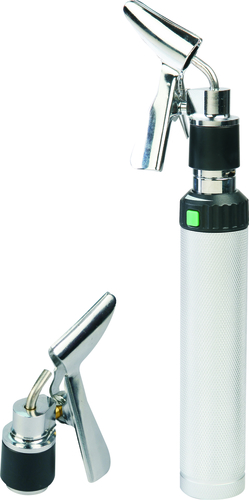 3.5V Bivalve Nasal Speculum
Product Code : 3.5V BIVALVE
Product Description
We have been catering to clients' requirements since years by supplying them best quality Nasal Speculum. Widely used by ENT doctors to examine the nose of patients, this instrument is specially designed with two flanges. This Nasal Speculum is extensively used during anterior rhinoscopy. The flanges of the speculum offer a better view of the structures inside the nose by widening the nasal cavity. It is widely used in various procedures such as for removing any foreign body from nose, nasal packing and in septal surgeries while making the incision.
Key features:
Easy to insert into the nostril
Clinically tested for safe usage
Durable quality

3.5V BIVALVE NASAL SPECULUM
LED lamp provides light output.
Fiberoptics for optimal beaming and transmission of the light.
Adjustable speculum facilitates removal of foreign bodies Autoclavable for complete sterilization.
Bulb : T3100.